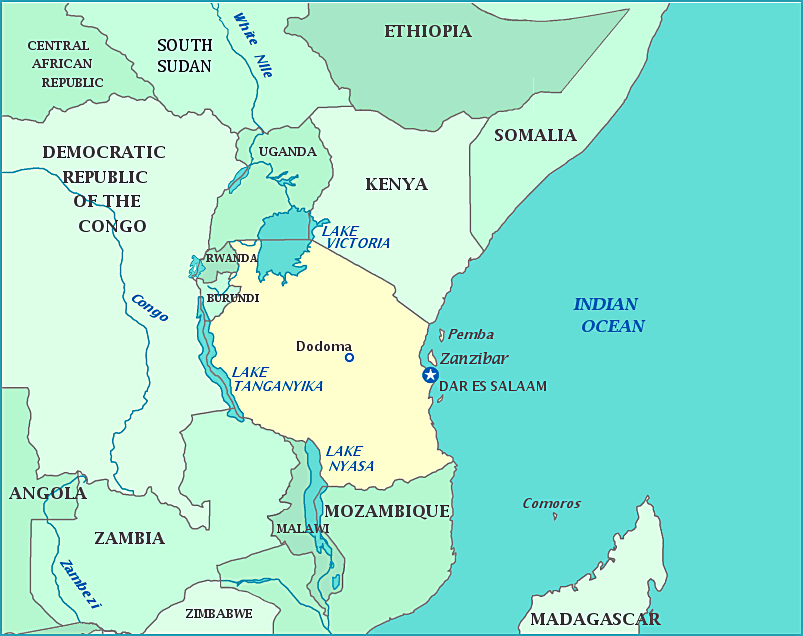 Tanzania

Tanzania is officially known as the Untied Republic of Tanzania; faces the Indian Ocean on the lower part of Africa. Its capital is Dodoma. It is the home of Kilimanjaro, the tallest mountain in Africa and the highest freestanding mountain in the world. It is also the home of Africa's three great lakes: Victoria, Tanganyika, and Nyasa. The country has many nature parks, including a sanctuary for chimps to honor Jane Goodall's research in that area.
The name of the country derives from two previously independent states, Tanganyika and Zanzibar. Before they were two different states, they were ruled by various kingdoms and empires. Islam was introduced to the area in the 1st century CE and soon after the Sultan Sayyid Said claimed the coast of Zanzibar as his own. Imperial Germany claimed the land of Tanganyika and added it to their colony of German East Africa. Tanganyika became an English Mandate after WWI when the rest of Europe took most of the land claimed by Germany—save for the Kioga triangle, which went to Portugal and later Mozambique. Independence was granted to Tanganyika in 1961.
In 1963, the Zanzibar revolution overthrew their long-time Arab conquerors and the two soon united. Tanzania's government has worked to improve its economy since independence and unity, however, it suffered severe economic setbacks in the 70's when it allied with China to create the TANZARA railway, but it picked up in the 80's boom.
Tanzanite, a beautiful blue semi-precious jewel, is only founds in this country (hence the name). In 2013, a rash of attacks on people with albinism occurred; the trade in human albino parts is highly lucrative, as it is believed to be a potent and essential ingredient to African witchcraft. Witchcraft is greatly feared in Tanzania and other African countries, often more than the government. Child labor is common, especially among girls; millions of children are forced to work every year and the number keeps growing.