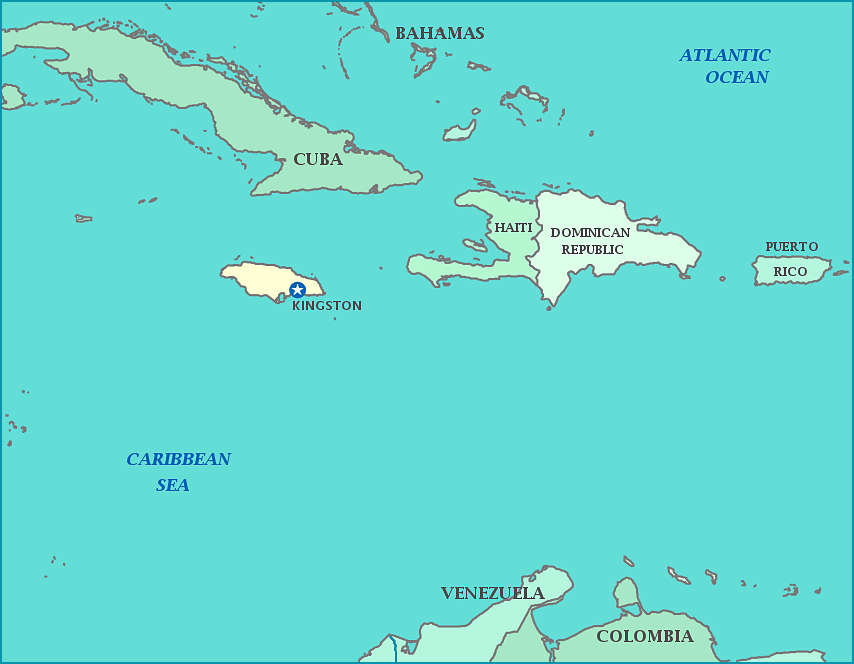 Jamaica
Jamaica is in the Caribbean Sea, south of Cuba. The third largest island in the Greater Antilles, it was originally inhabited by the Arawak and Taino people, Columbus arrived in 1494, and the Spanish soon translated the native name Xaymaca into Jamaica.  The native population nearly went extinct in 1600, as most died from disease brought by the Spaniards, and most of those left were enslaved and died of malnutrition and overwork.
In 1655, the British army invaded the islands, only to face several natural disasters over the next few centuries.  1703 saw the capital, Port Royal, devastated by a fire, and in 1722 the city met the wrath of a hurricane.  Finally, in 1892, an earthquake dropped two thirds of the city into the sea; thankfully Port Royal had mostly been abandoned by then and trade had moved to Kingston. 
Jamaica had more pressing problems, namely pirates using the island as a haven, including the infamous privateer Captain Morgan who eventually became governor.  Soon, piracy was the leading source of income.
Bananas were introduced to the island in 1867 and hundreds of Africans were enslaved to work on plantations to turn the fruit into a cash crop.  Both Native and African slaves fled during invasions, disasters, and pirate raids, and formed their own communities in the untamed jungle.  These former slaves were known as Maroons, and raided plantations occasionally.  Nevertheless, plantation owners focused on money rather than fighting and soon began harvesting sugar as well as bananas, leading to a demand for more slaves.  By 1800, blacks outnumbered whites 20-1. Great Britain freed all the slaves in 1838.  Jamaica obtained full independence from Great Britain in 1962.
Jamaica is a parliamentary democracy and a member of the Commonwealth, with Queen Elizabeth II as Head of State.
Capital:  Kingston
Area: 4, 244 sq. mi.
Population:  2,950,210